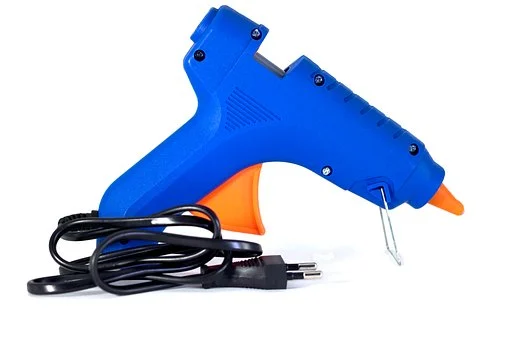 How Do You Use Hot Glue Guns?
The world of glue is a fun, sticky and messy place. There are multiple uses for glue which is greatly detailed in our previous blog 'choosing the right glue for the job'. With this in mind, In this article we will enlighten you into the world of glue guns and provide you with the knowledge on:
What a glue gun is
How to use a hot glue gun 
The benefits of a hot glue gun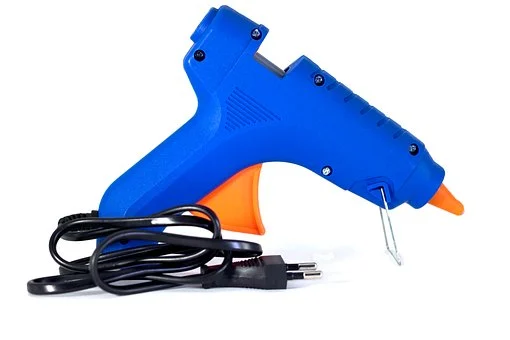 What Is A Hot Glue Gun?
To begin this article, the first thing you may be asking is "What is a hot glue gun".
A hot glue gun is a handy piece of equipment that uses a continuous-duty heating element to melt plastic glue which the user pushes through the gun with a mechanical trigger mechanism or direct finger pressure. As the user pushes the trigger, the glue is squeezed out of the heated nozzle. It's worth noting that the glue at the point where it leaves the nozzle is initially hot enough to burn and blister the skin so care is advised when using hot glue guns.
When the glue is expelled from the gun, it is sticky, hot and then solidifies in a few seconds to one minute. In industrial use, hot melt adhesives (HMA) provide several advantages over their solvent-based adhesives counterparts. Volatile organic compounds (VOCs) which are substances that are emitted as gases from certain solids or liquids, are reduced and the drying step is eliminated. Both of which are highly desirable in the crafting industries in terms of efficiency and being healthier for the environment.
How To Use A Hot Glue Gun:
Now that you know what a hot glue gun is, you may be wondering how to use a hot glue gun which will be listed below:
First thing's first when learning how to use a glue gun is to take a look at the product manual. Typically, it should tell you whether your glue gun will begin heating up automatically or needs to be turned on and off before and after use. It will also tell you how long it typically takes to warm up, what materials it's recommended for and specify what size of glue gun stick you'll need.
Inspect the glue gun for signs of damage. look over the body of the glue gun to check for cracking, splitting, chipping or any other indications of damage. Because there are electrical and heating elements, a malfunctioning glue gun can be extremely hazardous to use.
Load a glue stick into the back of the gun. Take a fresh glue stick and place one end into the circular opening in the back of the gun. If there is already a partially used glue stick in the gun, finish that stick before inserting a new one. Your glue gun does not need to be loaded with a new stick for after each use.
Plug the glue gun's cord into an electrical outlet. Locate an electric outlet in the wall nearest to where you'll be working, turn the glue gun on and wait for the glue to heat up. Give the glue gun a couple minutes to soften the glue. Once it's been melted, the glue will slowly pour out the nozzle when you pull the trigger. 
Start with a small amount of glue and then determine whether you need more. The melted glue will flow fairly quickly once the trigger is pulled and it can be easy to use too much. 
Finally, wait for the glue to dry. It can be helpful to hold your intended gluing items with your hands or a clamp as the glue sets. If the glue gun model isn't automatic, remember to switch the gun 'off' and switch the electrical outlet off as well.
Advantages Of Hot Glue Guns
Below we have listed the common benefits of using hot glue guns:
Industrial hot glue can dry strong and quickly, reducing the time delay before the product is ready.
Hot melt also 'cures' quickly. Cure time is the process where an adhesive crystallizes completely and then attains its final properties and builds up its final strength.
Industrial hot melt has a long shelf-life, and after use, it can be disposed of without any special precautions.
Hot melt glue also has the advantage of not losing any thickness when drying. This makes it especially helpful in some commercial projects or when utilising woodwork.
It's possible to add your own colours in glue gun adhesives if you would like them to blend in with the colour of the material that you are bonding together.
Hot glue guns are relatively eco-friendly compared to their solvent based adhesives. Solvent based promotes poor air quality and although glue guns are made from plastic, they don't require anything such as petrol to use, just an electrical outlet.
We hope that we have enhanced your knowledge in the realms of gluing and If you are in need of a hot glue gun, then you have definitely come to the right place here at Fosseway Tapes. For more information about our products give us a call on:
0800 652 1054
OR
Email – sales@fossewaytapes.co.uk